Company profile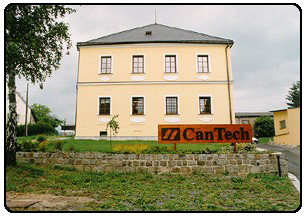 Our Company was founded 1994 in Šumperk in Czech Republic. Many years we operate on market as manufacturer and supplier DC and AC power systems for telecommunication and radio communication industry, GSM operators, army, etc.
Company is located on the outskirts of Sumperk, in a nice, historical building which accommodates departments of research and development, system designing, engineering, accounting, servicing and sales and marketing, CanTech is a steadily growing company providing customers with the best service and technical support in Czech and Slovak republic as well as in other requested European areas.
We provide wide spectrum of products:
DC and AC power systems (according to customer's requirements)
DC power supplies
Outdoor and indoor cabinets (equipped in according to customer's requirements)
DC distribution panels
UPS (1 phase, 3 phase)
Battery testers
Programable thermostats CT Citherm
Datasheets
Do not hesitate to contact us. Our sales staff will be pleased to answer all your questions.
Contacts:
CanTech s.r.o.
Potoční 2173/40
787 01 Šumperk
Czech republic
Tel.:
+420 583 250 991
E-mail: odstrcil@cantech.cz

Copyright © 2000-2023
Cantech s.r.o.